Best Survival Axe Reviews: 2021 Buyers Guide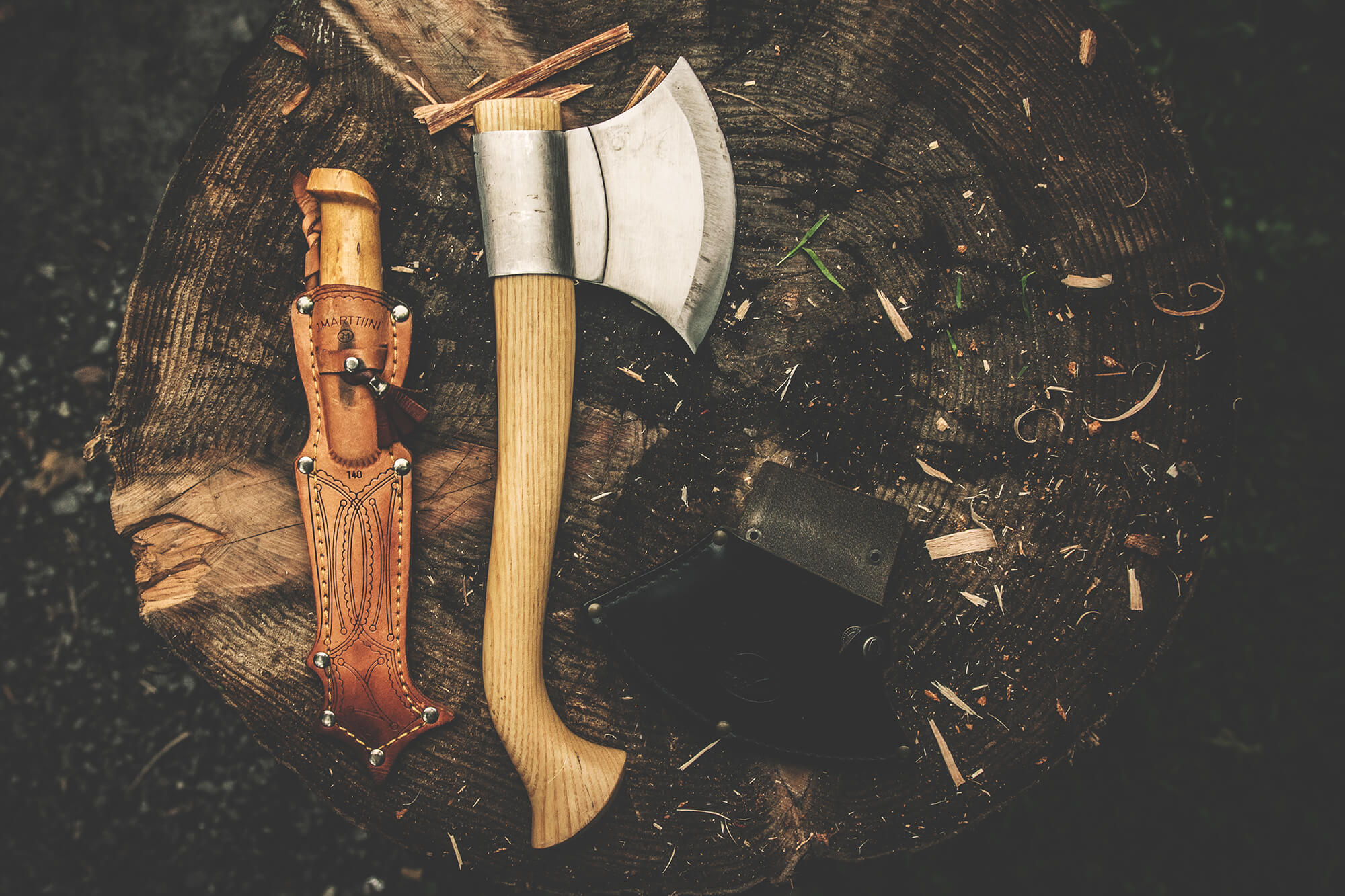 Axes, hatchets, and tomahawks are an irreplaceable tool for a survivalist or camper. While a knife can be used for some very basic and small wood processing, it doesn't compare to an axe. An axe is the only survival tool that can fell a tree, chop and split thick logs, and do serious wood processing tasks.
Today, axes are made so lightweight and portable that almost anyone can justify packing one away for an outdoor excursion or a survival situation. Modern axes have exceptional balance, long-lasting materials, and multiple functions.
That's right, many of the axes on this list go beyond chopping wood, they have hammers, wrenches, pry bars, saws, and more.
Because shopping for your perfect axe can be difficult, we made this all-in-one guide and list for you to keep things simple. You will find everything you need to make your decision along with a list of the 10 best axes on the market. There is something for everyone on this list, from campers to hunters, firefighters, and soldiers.
Most Important Things to Consider When Buying an Axe
Axe Length of the handle and Weight
A survival or camping axe needs to be portable. If you are packing light, you just can't afford to have a full-size axe with you. A large axe will take up too much space and will burn too many calories when used. In survival and camping, you don't need to fell large trees, you just need to cut and process smaller sized trees for firewood or shelter.
You must decide what you want your axe to do and how much bag real estate you are willing to sacrifice for it. Usually, the smaller and lighter the better.
Axe Head
The shape of the head and the type of steel define your cutting experience. Different shapes are good for different activities. For example, if you want an axe with exceptional carving ability, a simple wedge-shaped head won't do the trick.
Another factor of this part of the axe is the type of steel used in the head. You can find a great number of materials, each with its pros and cons. The most important thing is that you get strong, hard steel that retains an edge. In general, the more expensive the axe the better quality of steel it has. Keep in mind, some types of steel are super easy to take care of while others require special care to avoid staining and rusting.
Axe Handle
Along with the head, the handle plays a vital role in the balance of an axe. For comfortable and efficient chopping, the axe must be balanced and the handle comfortable to hold. Some people will be fine with a simple wood handled axe, while others will want something far more textured and durable. It all comes down to your axe usage and preference.
For the most durable and weather-resistant handle, you should go for a synthetic material. For a traditional look and feel, you can't go wrong with wood.
Axe Functions
Every axe on this list can chop wood — that's a given. However, some of them can do so much more. Extra functions on an axe can replace the need for other tools and make the case for bringing one out with you.
Some of the extra tools included in survival axes include a hammer, pry bar, saw, glass breaker, seatbelt cutter, wrench, and claw.
Many of you will be satisfied with a good ol' fashioned axe with a blade and nothing more. Some of you may value the versatility of a multi-tool axe. Toi keep it simple — just make sure you are getting everything you need in the axe and nothing more.
Axe Price
Probably the biggest factor for most is the price. Not everyone has hundreds of dollars to spend on an axe, and you don't need it. Today, you can find incredible camping and survival axes for under $50.
More expensive axes usually offer higher quality materials, more features, or come from more reputable brands. Just remember, expensive axes aren't necessarily better. Getting a great axe is all about deciding what you need and going for the axe that checks all of those boxes.
How We Rate Axes
We rated each of these axes based on our opinion and experience with the tool. Here is how we factor our rating:
Price – The price of the axe. The cheaper the bow is, the more stars it gets.
Dependability – The materials used, overall construction quality, and user ratings. Bonus points if the maker offers a warranty.
Portability – How portable is the tool. In general, a survival or camping axe should be light and practical. The more portable the axe, the more stars it gets.
Functionality – What can you use the axe for. Some of these axes can only be used for chopping and cutting while others are proper multi-tools. The more an axe can do, the more stars it gets.
Look – The visual appeal of the axe. While this is subjective and not a factor for some, many of us care about the aesthetics of an axe. More starts for beautifully designed and crafted axes.
Top 10 Best Survival Axes
In no particular order, here is our list for the top 10 best survival axes on the market today. All of these axes are extremely well rated by customers, come from outstanding brands, and are durable enough to last you for years and years.
For quick reference, just look at "Our Rating" and see what each axe is all about.
SOG Camp Axe – Camping Axe with Sheath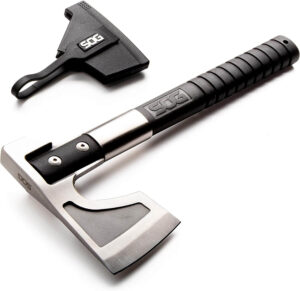 Price
Amazon Rating
4.7 out of 5
Our Rating
| | | | | |
| --- | --- | --- | --- | --- |
| Price | Dependability | Portability | Functionality | Look |
| ★★★★ | ★★★★ | ★★★★★ | ★★★ | ★★★ |
Review
The Seattle-based SOG is known for its exceptional gear. Their tools are field-tested by the U.S. Special Forces, even gaining the honor of the Navy SEAL knife of choice. All of SOG's knives, packs, and in this case, axes, are a part of a proud tradition. You just can't go wrong with any outdoor gear from this brand.
The SOG Camp Axe is made of satin-polished stainless. This forest axe/camping hatchet features a 3.1-inch blade. At 11.5 inches in total length, this thing manages to stay light and handy without losing out on chopping power. The handle is made of durable and comfortable glass-reinforced nylon.
You can chop and hack with the blade, or flip the tool over and use the specially-made backside as a hammer. The hammerhead is made broad and balanced to make hammering just as easy as chopping.
If you want a simple yet reliable axe from a legendary brand for a middle-of-the-road price, this is your pick.
Fiskars 378501-1002 X7 Hatchet

Price
Amazon Rating
4.7 out of 5
Our Rating
| | | | | |
| --- | --- | --- | --- | --- |
| Price | Dependability | Portability | Functionality | Look |
| ★★★★★ | ★★★★★ | ★★★★ | ★★★ | ★★★ |
Review
Fiskars is a long-running Finnish brand known for its great outdoor and gardening tools. The Fiskars Group is the oldest business in Finland that still operates today.
This axe is an excellent budget pick. Rather than paying for flash or gimmicky features, you just get a simple, well-made tool that does just what you need it to. The X7 is an easy-to-carry axe that is perfect for small- to medium-sized logs. A meticulously designed tool, the X7 has a near-perfect weight distribution. This, along with the advanced geometry of the blade, makes it easy to chop more wood faster, saving those valuable calories and reducing hand strain. Because the blade is ultra-sharp and the axe itself is virtually unbreakable, this is a highly practical survival tool.
For many, a warranty is a deal-breaker. Luckily for them, this Fiskars X7 comes with a lifetime warranty.
Whether you just want an easily packed axe for a family camping trip or you need a lightweight and reliable hatchet for survival, the X7 is unbreakable at this price.
KCCEDGE BEST CUTLERY SOURCE Axe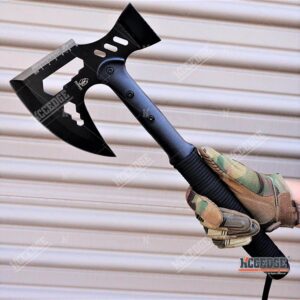 Price
Amazon Rating
4.4 out of 5
Our Rating
| | | | | |
| --- | --- | --- | --- | --- |
| Price | Dependability | Portability | Functionality | Look |
| ★★★★★ | ★★★ | ★★★ | ★★★★ | ★★★★ |
Review
This next survival axe may be your perfect pick if you want a few extra tools blended into a solid survival hatchet.
KCCEDGE made this axe with ease-of-use in mind. It fits nicely in the palm of your hand and comes in at a total length of 17 inches. The 3cr13 stainless steel head of the axe is specially heat-treated to create a balance of hardness and toughness.
What makes this axe cool are the extra features. It comes with a paracord wrapped around the handle, the head has a blade side, hammer side, and a multi-sized hex wrench.
If you don't mind an axe that's just a bit bigger than most camping and survival axes, you will get a lot out of this product. It offers great durability and value along with a combination of great features you won't find in its competition.
Off Grid Tools Survival Axe Elite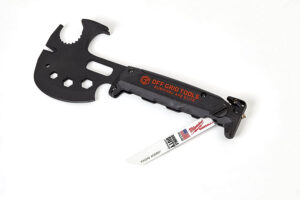 Price
Amazon Rating
4.2 out of 5
Our Rating
| | | | | |
| --- | --- | --- | --- | --- |
| Price | Dependability | Portability | Functionality | Look |
| ★★★★ | ★★★★ | ★★★★★ | ★★★★★ | ★★★ |
Review
Off Grid Tools makes all-American multitools originally designed by Minnesota-based Innovation Factory.
This is possibly the ultimate multi-tool axe in existence. It's truly a jack of all trades and makes an incredible camping or survival companion. It has a robust set of tools inside one highly-portable package. First and foremost, the axe head is made of heat-treated 1055 carbon steel that can be resharpened again and again. In addition to the chopping blade, the tool has a claw, ten sizes of hex sockets, a replaceable six-inch folding saw blade, a hardened steel glass breaker, and a seatbelt cutter.
This is the axe with the most uses on this list. If you find yourself in need of a do-it-all hatchet for camping and survival, this is your top pick — no doubt.
Zippo 3-in-1 Axesaw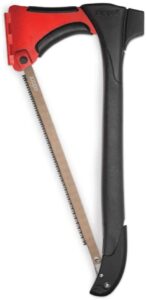 Price
Amazon Rating
4.3 out of 5
Our Rating
| | | | | |
| --- | --- | --- | --- | --- |
| Price | Dependability | Portability | Functionality | Look |
| ★★★★ | ★★★★ | ★★★ | ★★★★ | ★★★ |
Review
The world-famous maker of lighters also makes many outdoors and survival tools. Zippo brings us this three-in-one tool that unlike most others you'll find, includes a very capable hacksaw.
You can save space in your pack with this tool as it effectively replaces the need to bring a separate axe, saw, and mallet or hammer. The tool features a five-inch, full tang, 420 stainless steel axe head. The handle is made of a durable polymer that won't be damaged by water or extreme temperatures. The handy saw blade is stored in the handle for easy storage.
This is a perfect camping or hunting axe that doesn't break the bank. If you regularly bring a hacksaw, axe, and mallet out into the bush, you could save a ton of space by picking up one of these bad boys instead.
Schrade SCAXE5 12.8in Full Tang Tactical Hatchet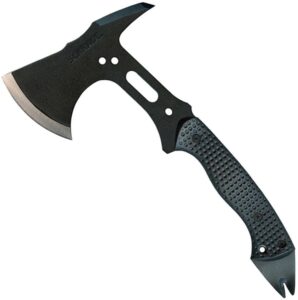 Price
Amazon Rating
4.6 out of 5
Our Rating
| | | | | |
| --- | --- | --- | --- | --- |
| Price | Dependability | Portability | Functionality | Look |
| ★★★★ | ★★★★ | ★★★★ | ★★★ | ★★★ |
Review
Schrade is a legendary name in knives. George Schrade earned his first patent on a press-button switchblade in 1892. Since then, the Schrade name has lasted through two turns of the century, two world wars, and tens of thousands of happy customers. Today the name is kept alive by American Outdoor Brands who brings us this survival axe.
The product we chose is a 12.8-inch tactical axe. The full tang black SK-5 high carbon steel head visually compliments the black nylon fiber handle. As a tactical bonus, this has a spiked pommel and a nail pull/pry bull for some extra versatility out in the field.
At this price, you expect a bit more out of the construction and materials of some of the budget axes. This Schrade hatchet delivers. If you aren't looking for a bunch of extra features you don't need, and want an axe with great value, go for this one, you won't be disappointed.
HX OUTDOORS Mercenaries Tactical Engineer Axes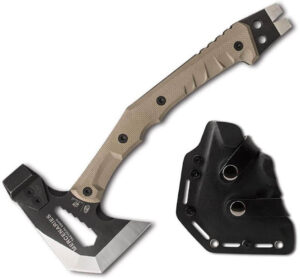 Price
Amazon Rating
4.5 out of 5
Our Rating
| | | | | |
| --- | --- | --- | --- | --- |
| Price | Dependability | Portability | Functionality | Look |
| ★★★ | ★★★★ | ★★★★ | ★★★★ | ★★★★★ |
Review
HX Outdoors is a Chinese company that makes surprisingly sturdy and high-quality products.
The Mercenaries Tactical Axe is a stylish and functional tool that is especially suited to survival. With a 440C stainless steel head, this thing is a nice balance of hardness and strength and holds an edge very well. The head features two straight-edge blades, one for chopping wood and the other perfect for shaving and cutting. On the backside of the head, you have a durable, wide hammerhead. Lastly, on the pommel, the axe has a pry tool.
HX Outdoors offers a money-back guarantee and warranty on this axe. If you aren't satisfied with the product, the company will replace it or give you a refund.
While this is a bit more expensive than some of the budget knives on this list, it carves out a place for itself with its double-bladed head and pry bar which are hard to find on an axe this size. This is a great choice for someone looking for a middle-of-the-road tactical hatchet.
ESEE Knives James Gibson Camping Bushcraft Axe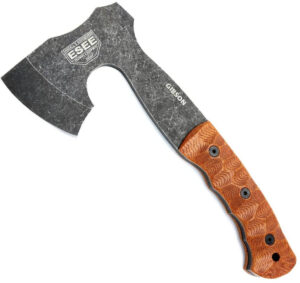 Price
Amazon Rating
4.4 out of 5
Our Rating
| | | | | |
| --- | --- | --- | --- | --- |
| Price | Dependability | Portability | Functionality | Look |
| ★★★ | ★★★★ | ★★★★★ | ★★★ | ★★★★★ |
Review
ESEE is an outstanding brand that makes knives and outdoor gear in the USA. This axe was designed by the famous James Gibson who has made many successful survival tools. He designed this axe to be small and lightweight enough for any camping task and be a great carving axe.
The head has a "Viking bearded" design that allows for close up work. This is made of high-quality 1095 steel, which is perfect for really rough and tough work but will rust and stain slightly if not properly cared for. It's very important with this product that you keep the blades properly lubricated and cleaned. This is a high-end axe that needs some special treatment.
Finger grooves and textured scales along the handle make for an incredible grip. Even when chopping hard in wet conditions this thing will stick with you. The overall length of the axe is 10.5 inches.
This axe is on the pricier side. What you get for your money is better materials, superior craftsmanship, and one of the best looking tools on the market.
Gerber Downrange Tomahawk

Price
Amazon Rating
4.5 out of 5
Our Rating
| | | | | |
| --- | --- | --- | --- | --- |
| Price | Dependability | Portability | Functionality | Look |
| ★★★ | ★★★★★ | ★★★ | ★★★★ | ★★★★★ |
Review
We all know and love Gerber. They make some of the best tools and gear around that doesn't break the bank. The Gerber Downrange Tomahawk is a modern, tactical take on an ancient weapon.
This is a three-in-one tool — it's an axe, hammer, and pry bar. Designed for three unique breaching tasks, the blade cuts through walls and rope, the hammer smashes locks and hinges, and the pry bar can break open doors. The steel is ultra-tough 420HC stainless steel. The handle has textured G-10 scales for the ultimate grip. This thing is designed to be an indestructible instrument of destruction.
At this price, you expect something really tough and long-lasting — that's exactly what Gerber gives you. This is the ultimate tactical axe. The Downrange Tomahawk can get everything done around the campfire but is fully capable in real tactical and combat scenarios.
Conclusion
Now you know what to look for in an axe and have probably found some great options. As I mentioned before, all of these axes are rated highly, come from great manufacturers, and are built tough enough to last for years on end.
We put our mark of approval on all of these products. They are the best axes on the market right now.
For more tips, lists, and reviews on outdoor and survival products, check out our other guides. We have you covered with the best info on outdoor and survival gear.