Tent Footprint vs Tarp: What's the Difference? Which Is Best?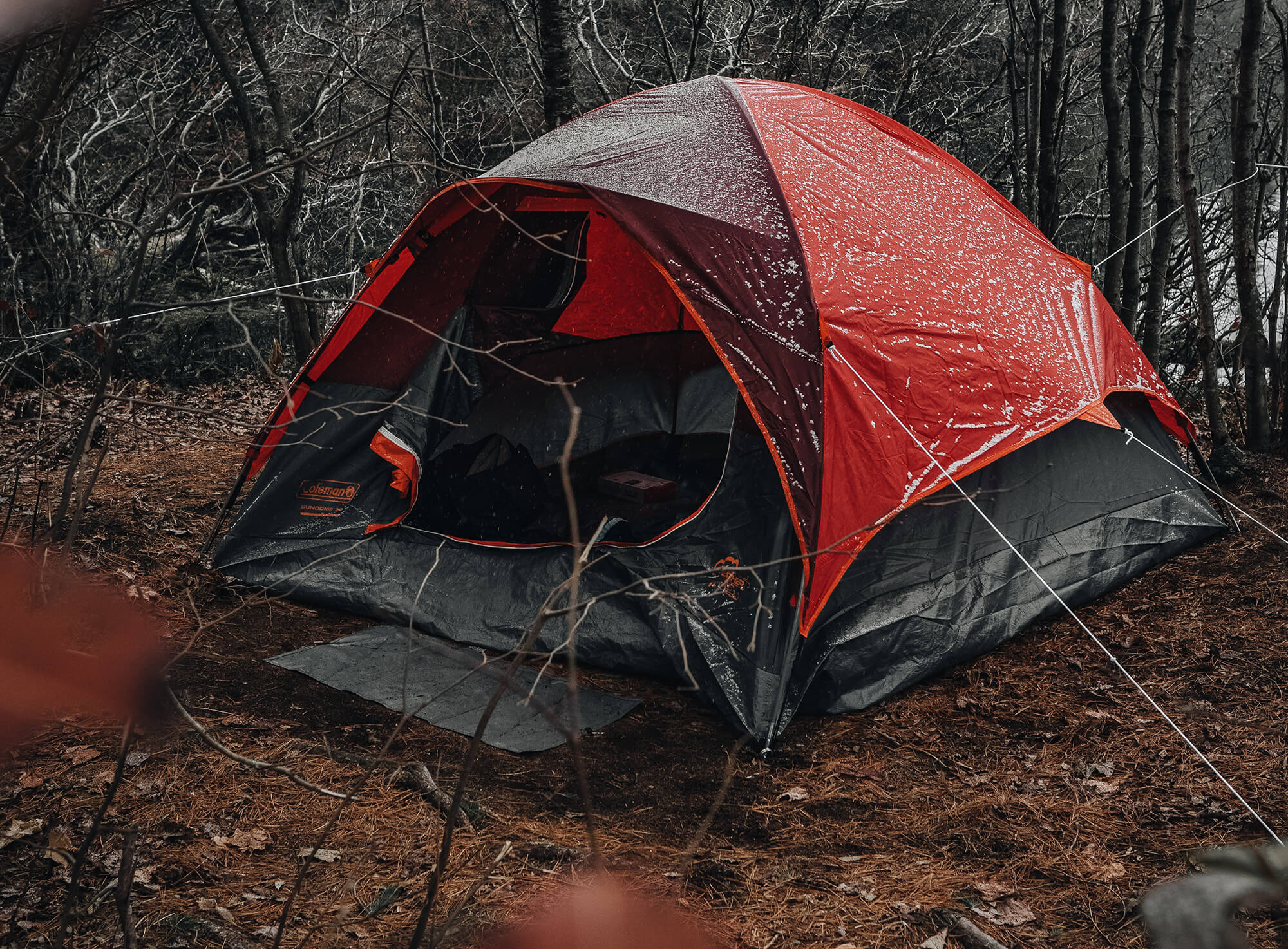 In this article, we will discuss the difference between tent footprint vs tarp. Nothing will draw you closer to nature than a good ole' camping trip in the great outdoors. It's one of the most relaxing, freeing, stress-relieving, and enjoyable activities known to man. Better yet, it's something you can enjoy on your own, with a group of friends, or with family members.
Anytime you choose to go camping, you're left with a wide range of options to choose from. Some people prefer camping in a log cabin, some in an RV. Some enjoy setting up in a travel trailer, and some like to camp in an old-fashioned tent. It's completely up to you!
Of course, there's nothing quite like setting up camp in a tent. No electricity, no technology, and no distractions — just you and the natural beauty of outdoor living. It can teach you a lot about yourself and give you some quality time away, but you have to make sure you're well-equipped.
So, why choose tent floor protection?
When most people pitch a tent, it ends up sitting right on top of the ground — which is usually filled with gravel, rocks, and other signs of rough terrain. Although tents are made durable enough to withstand the harsh and harmful outdoor environment, they're not indestructible.
With that said, it's quite common for your tent floor to experience rips, tears, and holes after heavy use. This is especially when you're walking on it during the day and rolling around on it while you sleep. The good news is this can be avoided with the proper tent floor protection.
Here are some of the other major reasons why you should consider floor protection when pitching a tent:
Protect the bottom of your tent from rips and tears.
Provide a moisture barrier that keeps water and moisture from entering your tent.
Provide a level surface to lay and sleep on, especially on uneven terrain.
Add a level of comfort to your sleeping area, especially on rocky and rough terrain.
Add some level of insulation between yourself and the ground.
At the end of the day, you want to make sure you're prepared for your camping trip. That often means keeping your tent out of harm's way. Since that's going to be your main source of shelter, it's very important that it's as durable as possible throughout the entirety of your trip.
Whether this is your first time camping or you're searching for new ways to avoid the inevitable, we're going to detail some of the most prominent tent flooring protectors known to man, including a tent footprint and a tarp. Without further ado, let's learn which one is best for you!
What Is a Tent Footprint?
A tent footprint is a piece of fabric material that is designed to sit underneath your tent. It provides somewhat of a shield between your tent and the ground beneath it. With the help of pegs, the tent footprint stays in place and is usually the first thing you set up when pitching a tent.
Most tent footprints are made out of waterproof or water-resistant material, such as nylon or polyester. You can also find them made of a rubber-like material, Polycryo (industrial plastic) or Tyvek. Some tents come with a tent footprint, but it might be worth it to buy a better one.
Why do I need a tent footprint?
A tent footprint is necessary for any tent, no matter where you're pitching it, how long you'll be using the tent, or what type of terrain it'll be sitting on. It provides a wide range of benefits that help you prolong the life of your tent. That way, you can use it for many more years to come.
In addition to helping reduce the number of rips and tears in your tent, a tent footprint helps add extra warmth and insulation. It reduces the chances of water seeping through the bottom. Also, it keeps the bottom of your tent clean, and it's tailor-made to fit the exact dimensions of your tent.
How do I find the right tent footprint?
If you're interested in finding a tent footprint to put underneath your tent while camping, there are several things you should consider. First and foremost, you want to make sure it's made out of waterproof material. That way, you can ensure no water seeps through the bottom of the tent.
You'll also want to make sure it has a bit of thickness to it. The thicker it is, the more comfortable your tent will be — as well as providing an even ground for laying on. Finally, you want to ensure you find the right size, ideally one that's two inches smaller than the tent all the way around.
Can I Use a Tarp Under My Tent?
Tent footprints are just one of the most prominent ways of protecting the bottom of your tent from moisture, rips, and tears. Another option many people tend to go with is a piece of tarp. It's much less expensive than a tent footprint, making it a great option for those sticking to a budget.
A tarp cover, also known as a tarpaulin sheet, is a large piece of material that's designed to be strong, flexible, waterproof (or water-resistant), and versatile. Most tarp is made of canvas, polyester, nylon, polypropylene, or polyethylene — each having their own unique benefits.
Why do I need a tarp under my tent?
The reasons why you might want to place a piece of tarp under your tent coincide with the reasons you would place a tent footprint underneath the tent. It provides a layer of protection from moisture, rips, and tears, but also helps keep the bottom of your tent clean and mud-free.
The main difference between a piece of tarp and a tent footprint is that tarp tends to be much thinner. With that said, it won't provide the same level of comfort as a tent footprint. It also won't help you even out the terrain or add as much warmth or insulation as a tent footprint would.
How do I find the right tarp?
A tarp is extremely cheap compared to most tent footprints, which is why most people tend to choose tarp over a footprint. Of course, there are a few things you'll want to consider before choosing the right piece of tarp for you — especially if you want to prolong the life of your tent.
The main thing you'll want to consider is the type of material. If you're going for something that's waterproof, it's best to go with a tarp cover that's made of polyethylene. You'll also want to make sure it's large enough, though you'll likely have to end up cutting it to the exact size of your tent.
Tarp also comes in a variety of colors, so you can choose a color that matches your tent well or one that coincides with your favorite color. Either way, you'll have plenty of different options to choose from when finding the right tarpaulin sheet to use as tent floor protection.
Other Camping Tent Flooring Options
A tent footprint and a piece of tarp are extremely necessary when camping in a tent. In fact, many people end up using both of them at the same time for the best results. With that said, they're only useful when protecting the outside of your tent and don't do much for the inside.
If you're looking to add an extra layer of comfort and warmth when sleeping in your camping tent at night, you might want to consider some tent flooring options for inside your tent. Don't worry, we have several different options you can consider. Let's take a look at each one below:
Foam Tent Floor Tiles – one of the best options for your tent floor, these foam tent floor tiles are interlocking and fit together like a puzzle. This makes them easy to set up and easy to carry around. They'll provide the cushion you need inside your tent.
Fluffy Blankets – when in doubt, utilize the comfort of a fluffy blanket. Blankets can be spread out through the tent to provide a more comfortable floor while sleeping. The thicker and fluffier the blanket, the more comfortable it'll be on your floor.
Tent Floor Carpet – believe it or not, you can purchase small tent floor carpet tiles that mimic the flooring you find throughout your living room. These can help you add a little bit of comfort while giving you that home-like feel while camping.
Tent Floor Mats or Rugs – similar to a tent floor carpet tile, a tent floor mat or rug is often larger in width and length. They aren't always the most comfortable option, but you can find some that are rather thick. At the end of the day, it's better than nothing.
Pillows – if you want to get creative and have some extra pillows laying around, don't underestimate the use of pillows when building a more comfortable tent floor. It might make more sense to purchase a few body pillows, since those are much larger.
Mattress or Mattress Topper – if you want to get a little extra creative, purchasing a thin mattress or mattress topper to lay across your tent floor will provide max comfort when sleeping in your tent. It might cost a little extra, but it'll be well-worth the investment.
By combining these indoor tent flooring options to your tent footprint and tarp, you can ensure your tent is ready for your camping trip. Not only will it be safe from moisture, rips, and tears, but it'll be comfortable, warm, and on an even surface to provide an optimal sleeping environment.
Related Questions
There are plenty of reasons why someone might consider placing a tent footprint or piece of tarp underneath their tent while camping. Now that you understand the differences between the two, let's take a look at some other questions that are likely rumbling through your mind right now.
What else can you use tarp for when camping? If you plan on going camping, tarp is one of the most useful materials you can pack. If you're not using it underneath the tent, you can use it for shade, a makeshift shelter, or to keep your cooking fire free from rain.
Should tent footprints be smaller than the tent? When purchasing a tent footprint or cutting a piece of tarp to put underneath the tent, you should make sure it's around two inches small all the way around. This ensures rainfall won't seep through between the tent and footprint or tarp.
Does a tent footprint go inside or outside the tent? A tent footprint is designed to go outside and underneath the tent. This will keep the bottom of your tent free from rips, tears, and moisture, but also keep the bottom of your tent clean when you're ready to pack up.
How do you clean a tent footprint or piece of tarp? While a tent footprint or tarp will keep the bottom of your tent clean, a majority of that dirt and mud will find its way on the tarp or tent footprint. To clean it, use a hose to wash it down and scrub it with a sponge if the dirt won't wash away with the hose.
How long will a tent footprint or tarp last? While there's no standard lifespan for a tent footprint or tarp, they are made to be extremely durable — oftentimes more durable than the tent itself. With that said, it will certainly prolong the life of your tent for many years to come.
Whether you're interested in a tent footprint, a tarp, or other tips and ideas when getting the most out of your camping trip, don't hesitate to reach out to us today. You can also read through our other useful and helpful articles in our blog regarding the great outdoors and wonderful nature.