How Much Does a Kayak Weigh?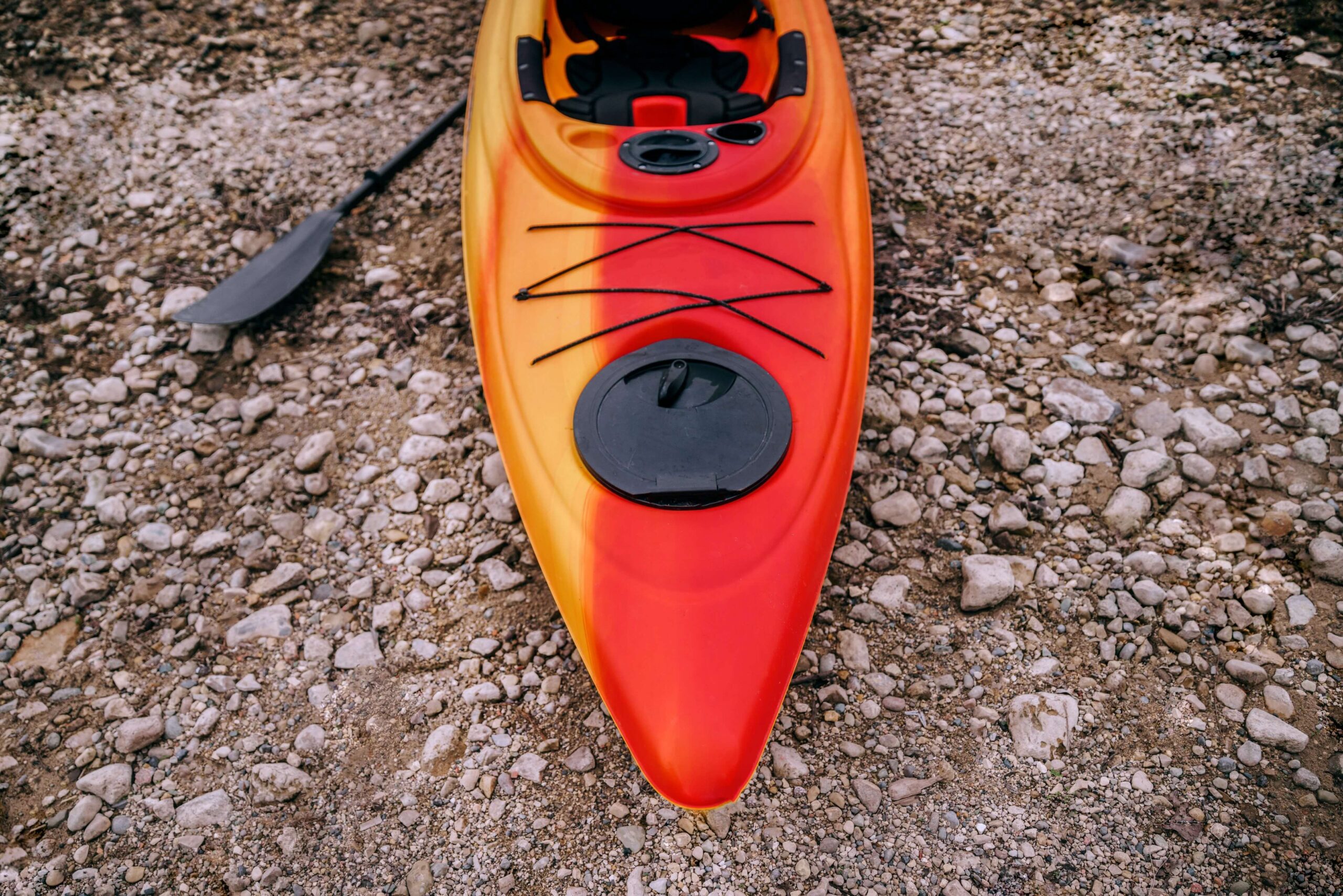 Kayaking makes for an exciting, rewarding, and satisfying adventure for any individual, family, or group of friends. It allows you to easily explore some of the most beautiful scenery known to man without having to purchase or rent a large boat — which can be difficult to pilot at times.
With that said, one of the things people worry about the most when kayaking is how much the actual kayak weighs. Since you'll often have to carry the kayak to the water all by yourself, you want to make sure the kayak isn't too heavy. Otherwise, your trip will be over before it starts.
So, how much does a kayak weigh?
A kayak weighs anywhere from 20 pounds to over 100 pounds, with some weighing in at over 200 pounds. It largely depends on what type of kayak you're purchasing, which is why it's so important that you do your research before making a final decision on what one is right for you.
If you're a beginner kayaker, don't worry. We're going to teach you everything you need to know when choosing a kayak that doesn't weigh too much. As you continue reading below, you'll learn the factors that impact weight, as well as the weights for different types of kayaks.
Let's get started!
Factors That Determine a Kayak's Weight
It doesn't matter where you're shopping, you're going to come across a ton of different and unique kayaks to choose from. They all have their specific uses, and they each come with their benefits — as well as weights. It's true when they say no two kayaks are the same.
You might be wondering why a kayak's weight matters. The main reason is that you'll need to carry it into and out of the water, which can be quite the workout if you aren't thinking about the weight. In addition to that, the weight can impact the buoyancy and how well it handles itself.
The weight of your kayak will boil down to several different factors, including:
Material – not all kayaks are made of the same material, and some are heavier than others. Most kayaks are made of either wood, composite/glass (fiberglass), plastic (rotomolded), thermoform (ABS), or a poly-based fabric (inflatable).
Type – there is a wide range of different types of kayaks, including recreational kayaks, touring kayaks (sea kayaks), fishing kayaks, inflatable kayaks, and tandem kayaks. Each of these types comes with a different weight to it.
Size – not all kayaks are the same size. Some are less than 12 feet long and wider than 24 inches, some are between 12-16 feet long and between 22-25 inches wide, and some are longer than 16 feet and no wider than 22 inches.
Accessories – As you can likely imagine, the amount and type of accessories you have on your kayak will play a role in its weight. They might come equipped with electronics, mounts, leashes, floats, hardware, storage boxes, anchors, rod holders, fish bags, etc.
You should never purchase a kayak without first understanding its weight. The weight is usually listed in the kayak's manual, but you can often find it online by doing a simple Google search of the exact kayak you're looking at. Don't worry, we'll do a brief breakdown of each type below.
How Much Does a Recreational Kayak Weigh?
A recreational kayak is designed for recreational and casual paddlers interested in kayaking for the scenery in or around a lake or flatwater stream. It has a large cockpit, it's easy to get in and out of, they're stable and durable, and usually made of polyethylene plastic.
For the most part, a recreational kayak, also known as a single kayak, weighs between 30-50 pounds. Most recreational kayaks weigh around 35 pounds, but this largely depends on the type of material it's made of. They are usually less than 12 feet long and wider than 24 inches.
Most individuals will have no problem carrying a recreational kayak around, though they aren't the lightest option available. While it's best to have help when carrying your kayak to and from the water, the best way to do it yourself is by placing the cockpit rim sideways on your shoulder.
How Much Does a Fishing Kayak Weigh?
Unlike a recreational or sea kayak, a fishing kayak isn't designed to move long distances or move at high speeds. Instead, they're intended for pristine stability when floating on the water, that way, you can stand or sit comfortably while casting your fishing line and reeling those fish in.
With that said, most fishing kayaks are a bit heavier than your recreational kayak. While they can weigh as little as 35 pounds, most of them are above 100 pounds and some even upwards of 200 pounds due to all the features, fishing gear, storage boxes, and tackle boxes included.
Most fishing kayaks are between 10-14 feet long and can be as wide as 35 inches, but usually less than that. Since they're some of the heaviest kayaks out there, you'll generally need two to four people when carrying it to and from the water — that way, you avoid an injury before the trip.
How Much Does a Tandem Kayak Weigh?
A tandem kayak is designed with two cockpits instead of one. Much like a tandem bicycle, it's intended for use with two people. Although it makes for a more enjoyable journey with a family member or friend, they're usually more difficult to steer since there are two people paddling.
Most tandem kayaks weigh between 50 and 75 pounds but usually weigh around 65 pounds. Since they're longer than your average kayak, they're usually twice as heavy as a recreational kayak. Some tandem kayaks weigh as much as 100 pounds due to material and accessories.
Tandem kayaks are normally twice as long as a recreational kayak, coming in at around 18-24 feet long and between 18-24 inches wide. While they're heavier than a recreational kayak, carrying it is usually quite easy since you're splitting that weight between two different people.
How Much Does an Inflatable Kayak Weigh?
An inflatable kayak is exactly as it sounds, a kayak inflated and deflated before and after use. It makes for easy storage, easy carrying, and easy kayaking! Due to advancements in technology, you'd be surprised by just how durable and stable an inflatable kayak is a today.
Since an inflatable kayak isn't designed with a hard shell, they aren't going to weigh as much as your average kayak. They normally weigh anywhere from 20-50 pounds but usually weigh about 30 pounds. It all boils down to how large the kayak is, the material, and the accessories.
One person can usually carry an inflatable kayak since they're not as heavy as other kayaks. Of course, you will need to save yourself some time before you start kayaking, and after you've finished, that way, you can properly inflate and deflate it for proper and easy storage.
How Much Does a Sea Kayak Weigh?
While a recreational kayak is designed for beginners and recreational use, a sea kayak is designed for more advanced paddlers and sports use. It's built to withstand waves, wind, and heavy currents. It also has a smaller cockpit and more room for equipment for a long journey.
Most sea kayaks tend to weigh anywhere between 40-60 pounds but usually come in at around 50 pounds. One of the biggest factors to this is how much equipment you end upbringing, especially since sea kayaks are normally intended for multi-day voyages in the open water.
A sea kayak is normally the longest kayak when compared to the ones we listed above — especially if it's a tandem sea kayak. They're usually anywhere from 12-17 feet long (single) and up to 25 feet long (tandem) and feature a width of anywhere from 20-35 inches wide.
How Much Weight Can a Kayak Hold?
Before you purchase a kayak for your much-needed adventure, you should also consider the kayak's weight limit — in addition to its actual weight. The weight limit is usually detailed in the user manual, but you can also find a specific kayak's weight limit through a Google search.
The weight limit is extremely important because it tells the paddler whether it can support them, as well as how much equipment they can bring. A paddler should never exceed the kayak's weight limit because it could result in their kayak sinking before they even begin their voyage.
Taking into account the various different types of kayaks we mentioned above, let's take a look at what the typical weight limit is for each one:
Recreational Kayak – a 250-300 pound weight limit
Fishing Kayak – a 350-400 pound weight limit
Tandem Kayak – a 500-600 pound weight limit
Inflatable Kayak – around 450-700 pound weight limit
Sea Kayak – around a 350-pound weight limit
When finding the right kayak for you, it's important that you find one that has a weight limit of around 125 pounds more than your actual weight. The best way to calculate if it'll suit your weight is to reduce the weight limit by 30-35%. If you weigh less than that, you'll be safe.
Related Questions
By now, you have a firm idea of how many different types of kayaks weigh — including tandem, fishing, recreational, inflatable, and sea kayaks. You also understand what factors into the weight of a kayak and what the average weight limits are for each different type of kayak.
With that said, here are some of the more prominent related questions that might be running through your mind in regards to the weight of a kayak:
Is a lighter-weight kayak better? When you purchase a kayak that's light in weight, it's easier to carry, easier to load onto your vehicle, and easier to get up to speed while paddling. Not only that, but you can carry more equipment since the kayak doesn't weigh as much.
Are heavy kayaks harder to paddle? A heavier kayak is usually more stable when floating on the water, but it might be a little harder to paddle due to the extra weight you're carrying around. It'll also slow you down and make it harder to pick up speed.
Why are fishing kayaks so heavy? A fishing kayak tends to have more accessories than your average kayak, which contributes to a heavier weight. These accessories include rod holders, tackle boxes, fish storage boxes, electronics, and other mounts. They're also usually stand-on-top kayaks and need to be sturdy enough to stand on.
Why do inflatable kayaks have a high weight limit? Compared to most hardshell kayaks, an inflatable kayak has a much higher weight limit. This is due to the buoyancy provided by the air-filled tubes that make up the inflatable kayak.
What happens if you exceed the weight limit of your kayak? When you exceed the weight limit of your kayak, the kayak becomes harder to float above water. You could easily start to sink, but even if you don't sink, you will start to lose stability, and it will become easier to capsize the kayak.
Why does a kayak's weight matter? There are a variety of reasons why you want to take notice of the kayak's weight. The obvious is because you need to be able to carry the kayak to and from the water. In addition to that, a heavier kayak is more stable, while a lighter kayak is faster. At the end of the day, it all comes down to preference.
Whether you're interested in learning more about kayaks and how they work or want to start finding a kayak for yourself, we're always here to help. Don't hesitate to contact us with any questions, comments, or concerns you might have in regards to your interest in kayaks.